About Healthy Nutrition
About Essential Nutrition Actions
Essential Nutrition Actions
Preconception & Pregnancy
Breastfeeding Mothers
Benefits of Breastfeeding
Breastfeeding Difficulties
Breastfeeding Resources
Infants - Birth to 6 months
Infants - 6 months to 1 year
Children - 1 to 3 years
Nutrition and illnesses
Knowledge Tests
Practices & Behaviours Tools


Mother, Infant and Young Child
Nutrition and Malnutrition



Useful portals on Mother and Child Health


This work is licensed under a Creative Commons Attribution-NonCommercial-NoDerivatives 4.0 International License.
About Essential Nutrition Actions at Critical Stages in the Life Cycle of Women and Children
Breastfeeding Resources
Monitoring and Evaluation Tools
Measuring progress in improving infant and young child feeding requires appropriate indicators and instruments to assess current feeding practices and monitor program impact. The M&E tools found here include descriptions of key infant and young child feeding (IYCF) indicators, an IYCF monitoring manual, and questionnaires used in LINKAGES' programs in six countries.
Key Infant and Young Child Feeding Indicators: Definitions and Measurement
Infant and Young Child Feeding Indicators
The main purpose of a common set of indicators is to standardize the assessment and evaluation of breastfeeding behaviours across programs implemented and funded by different organizations. LINKAGES used a common set of infant and young child feeding indicators based on WHO definitions (1991) and Wellstart International's toolkit for monitoring and evaluating breastfeeding activities (1996). These standard indicators have all been field tested prior to application. They are limited in number and fairly easy to measure and interpret. This section of the website defines LINKAGES' primary indicators, provides sample surveys for collecting information used to calculate the rates, and notes the indicators' strengths and limitations.
Infant Feeding Key Indicator Monitoring Manual
Questionnaires on Infant and Young Child Feeding and Related Practices
Questionnaires on Infant and Young Child Feeding and Related Practices
LINKAGES conducted baseline surveys, annual rapid assessment surveys, endline surveys, and special surveys such as media evaluations. The community surveys from Bolivia and Ghana focused on breastfeeding and complementary feeding. The country programs in Ethiopia and Madagascar were in a broader nutrition and child survival context which is reflected in the surveys. In Tanzania and Zambia , infant feeding was integrated within prevention of mother-to-child transmission (PMTCT) of HIV programs.

Counselling Cards on Breastfeeding and Related behaviours
The key behaviours that LINKAGES promoted are listed in the chart below. Click on a behaviour for technical information and examples of counselling cards developed by LINKAGES and its country program partners to promote that behaviour. Or scroll down and download all the cards developed in each country.
The cards illustrate different ways messages can be visualized. Illustrations and messages should be adapted for each audience and tested with that audience in the place where they will be used. The adaptation should be based on formative research to identify current behaviours in need of improvement, barriers to the adoption of optimal behaviours, and appeals to use in motivating the target audience to change their behaviours.
The strengths and weaknesses of counselling cards and guidelines for their design and use are discussed in "Tips for Communicators"
"Developing Messages and Materials in Ghana" illustrates the process used for developing breastfeeding messages and counselling materials.
"Promoting Breastfeeding in Madagascar" describes how counselling cards and other types of print materials and electronic media were developed to promote breastfeeding.
Key behaviours
Counselling Cards by Country (PDF files)
Infant and Young Child Feeding and Nutrition
Feeding is a critical aspect of caring for infants and young children. Appropriate feeding practices stimulate bonding with the caregiver and psycho-social development. They lead to improved nutrition and physical growth, reduced susceptibility to common childhood infections and better resistance to cope with them. Improved health outcomes in young children have long-lasting health effects throughout the life-span, including increased performance and productivity, and reduced risk of certain non-communicable diseases.
Child Feeding and Nutrition ( 2-5 years age )

Malnutrition contributes to more than half of all childhood deaths, although it is rarely listed as the direct cause. For most children, lack of access to food is not the only cause of malnutrition. Poor feeding practices and infection, or a combination of the two, are both major factors of malnutrition. Infection - particularly frequent or persistent diarrhoea, pneumonia, measles and malaria - undermines nutritional status. Poor feeding practices, such as inadequate breastfeeding, offering the wrong foods, giving insufficient quantities, and not ensuring that the child gets enough food, contribute to malnutrition.

Malnourished children are, in turn, more vulnerable to disease and the vicious circle is established.

Improved feeding practices to prevent or treat malnutrition could save 800,000 lives per year.
Counselling for mothers and caretakers
Micronutrient supplements
Management of severe malnutrition
Adolescent Nutrition

Adolescence represents a window of opportunity to prepare for a healthy adult life. During adolescence, nutritional problems originating earlier in life can potentially be corrected, in addition to addressing current ones. It is also a timely period to shape and consolidate healthy eating and lifestyle behaviours, thereby preventing or postponing the onset of nutrition-related chronic diseases in adulthood.

As adolescents have a low prevalence of infections such as pneumonia and gastroenteritis compared with younger children, and of chronic disease compared with ageing people, they have generally been given little health and nutrition attention, except for reproductive health concerns. However, there are nutritional issues, which are adolescent-specific, and which call for specific strategies and approaches.

The main issues in adolescent nutrition are:
Micronutrient deficiencies (iron deficiency and anaemia)
Malnutrition and stunting
Obesity and other nutrition-related chronic diseases
Adolescents eating patterns and lifestyles
Nutrition in relation to early pregnancy
Initiation of Breastfeeding by Breast Crawl

visit breastcrawl.org for video and complete dossier.

UNICEF, WHO and WABA along with the scientific community strongly recommend initiating breastfeeding within an hour of birth.

Evidence shows that early initiation can prevent 22% of all deaths among babies below one month in developing countries.

Every newborn, when placed on the mother's abdomen, soon after birth, has the ability to find its mother's breast all on its own and to decide when to take the first breastfeed. This is called the "Breast Crawl".

This method is evidence based and has been field tested by us. A documentary on the "Breast Crawl" has been prepared for training, advocacy and for wider dissemination. The video has created a very high level of sensitivity among all the levels of functionaries and was officially endorsed by senior policy makers as the right approach for initiating breastfeeding. This dossier provides the background and a scientific overview to the documentary.

We are sure that this documentary and dossier will greatly help similar initiatives worldwide. It is our strong desire that this information helps every mother and baby to experience the miracle of Breast Crawl. If we all could achieve early initiation of breastfeeding, we will be able to prevent 22% of all deaths among babies below 1 month.

This can be achieved by training all health care providers to initiate breastfeeding, by Breast Crawl, to give infants the best start in life.
Posters: Breastfeeding. The Essence of Life 438 kb

What everyone should know about breastfeeding*

"Improved breastfeeding alone could save the lives of more than 3,500 children every day, more than any other preventive intervention"

Innocenti Declaration 2005 on Infant and Young Child Feeding © UNICEF

* Based on Facts for Life, published by UNICEF, WHO, UNESCO, UNFPA, UNDP, UNAIDS, WFP and the World Bank
Global Strategy for Infant and Young Child Feeding
WHO - UNICEF
pdf 440 kb - 37 pages

WHO and UNICEF jointly developed the Global Strategy for Infant and Young Child Feeding to revitalize world attention to the impact that feeding practices have on the nutritional status, growth and development, health, and thus the very survival of infants and young children.

The Global Strategy is based on the evidence of nutrition's significance in the early months and years of life, and of the crucial role that appropriate feeding practices play in achieving optimal health outcomes. Lack of breastfeeding - and especially lack of exclusive breastfeeding during the first half-year of life - are important risk factors for infant and childhood morbidity and mortality that are only compounded by inappropriate complementary feeding. The life-long impact includes poor school performance, reduced productivity, and impaired intellectual and social development.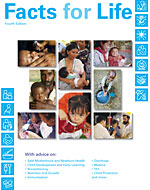 Facts for Life

Author: UNICEF, WHO, UNESCO, UNFPA, UNDP, UNAIDS, WFP and the World Bank
Publication date: April 2010
Languages: English French Spanish

The fourth edition of Facts for Life contains essential information that families and communities need to know to raise healthy children. This handbook provides practical advice on pregnancy, childbirth, childhood illnesses, child development and the care of children. This edition also features a new chapter on child protection. The book is intended for parents, families, health workers, teachers, youth groups, women's groups, community organizations, government officials, employers, trade unions, media, and non-governmental and faith-based organizations.
Dr. R. K. Anand's Guide to Child Care

This guide is for pregnant mothers and parents of infants, young children, and teenagers. A definitive guide to the parent on pregnancy and childrearing from infancy to the teenage years. Authored by one of India's foremost paediatricians and an internationally renowned authority on breastfeeding, the book combines a knowledge of traditional childrearing practices with the latest medical developments in child care.

Dr. Anand's Guide to Child Care answers questions such as:


Is there a right age to have a baby?

What can I do when my baby cries?

Can a working mother successfully breastfeed?

How helpful is a joint family in bringing up children?

How should we handle our fussy eater?

Is my child ready for toilet-training?

Are vaccines safe?

When is the right age for sex education?

How can I raise a happy child?

Are drugs overprescribed for childhood illnesses?

How should we handle our teenager?

What should I do in a medical emergency?

India
National Guidelines on Infant and Young Child Feeding

Audience:

Ministry of Human Resource Development, Department of Women and Child Development, Food and Nutrition Board, Government of India
August 2004

37 pages - pdf 936 kb
National Guidelines on Infant Feeding

Audience:

Food and Nutrition Board, Department of Women and Child Development, Ministry of Human Resources Development, Government of India.
1992

17 pages - pdf 2.5 mb

WHO Resources
Nutrition for Health and Development (NHD)
Reproductive Health and Research (RHR
General
The international code of marketing of breast-milk substitutes. Frequently asked questions
ISBN 92 4 159429 2

Feeding the non-breastfed child 6-24 months of age
WHO/FCH/CAH/04.13

Implementing the Global Strategy for Infant and Young Child Feeding: Report of a technical meeting
ISBN 92 4 159120 X

Community-based strategies for breastfeeding promotion and support in developing countries
ISBN 92 4 159121 8

Breastfeeding and maternal medication:
Recommendations for drugs in the eleventh WHO model list of essential drugs

Complementary feeding: Report of the Global Consultation, and Summary of Guiding Principles for complementary feeding of the breastfed child
WHO, CAH
[PDF], 1.193 MB

Guiding principles for complementary feeding of the breastfed child
WHO, PAHO | Englishpdf, 6.162 mb | Spanishpdf, 1.078 mb

Guiding principles for feeding non-breastfed children 6-24 months of age
ISBN 92 4 159343 1 | English and French versions

WHO, UNICEF, the International Committee of the Red Cross and the International Federation of Red Cross and Red Crescent Societies call for support for appropriate infant and young child feeding in the current Asian emergency, and caution about unnecessary use of milk products
HTML, 12 KB, pdf, 256 kb

Should adolescents be specifically targeted for nutrition in developing countries? To address which problems, and how?

Nutrient adequacy of exclusive breastfeeding for the term infant during the first six months of life

The optimal duration of exclusive breastfeeding. A systematic review
WHO/FCH/CAH/01.23

Complementary feeding: Family foods for breastfed children
WHO/FCH/CAH/00.6

Special Supplement of the Food and Nutrition Bulletin
2003, 24(1) - pdf, 1.660 mb

Technical consultation. HIV and infant feeding: Implementation of Guidelines
WHO/CHD/98.15

Evidence for the Ten Steps to Successful Breastfeeding
WHO/CHD/98.9
English, French and Spanish versions

Complementary feeding of young children in developing countries: A review of current scientific knowledge
WHO/NUT/98.1

Breastfeeding and maternal tuberculosis
UPDATE, N 23 February 1998

Breastfeeding and the use of water and teas
UPDATE, N 9 November 1997

Not enough milk
UPDATE, N 21 March 1996

Hepatitis B and breastfeeding
UPDATE, N 22 November 1996

Breastfeeding counselling: A training course
UPDATE, N 14 August 1994

Contaminated food: A major cause of diarrhoea and associated malnutrition among infants and young children

Breastfeeding: The technical basis and recommendations for action
WHO/NUT/MCH/93.1

Recommended length of exclusive breastfeeding, age of introduction of complementary food and the weaning dilemma
WHO/CDD/EPD/92.5

Savage King, F. Helping Mothers to Breastfeed
1992
Planning
Guidelines and Training
Monitoring and Evaluation
Research
Other Resources
14 September, 2019